You are currently browsing the category archive for the 'music' category.
Many of you have written asking me why I haven't been writing my Sarah vs. Spears installments during a time of such rich deposits of Britney Spears-related celebrity news. How could I have missed out on commenting on Brit leaving her kids in a locked car while she went on a chandelier shopping spree? How could I have resisted writing a scathing blog about Brit's sister being preggers what with her mother having just finished up that book about parenting?
And now, in these prosperous Britney-Spears-Acting-Crazy-Again times, how could I not cover her dramatic mental breakdown and custody loss?
The answer is two-pronged. First off, it's just too easy. Too many people are doing it and as soon as I come up with a clever stretcher joke, I read about it with slightly different phrasing on TMZ or somewhere. Secondly (and this may shock you) I'm kind of starting to feel bad. It's one thing to make fun of someone chandelier shopping and it's another thing to make fun of someone landing themselves in a mental hospital for the weekend. This might go back to my earlier point of things being just too easy.
I mean, I don't want to be the bully who makes fun of the fat kid or the kid with acne or the poor kid whose parents are divorced. I want to make fun of the popular girl or the guy who thinks he's hot shit when in reality his shit is only lukewarm. Britney used to be that popular girl, but I'm not sure if she really qualifies anymore.
These recent reports that she's not even hooked on any foreign substances are even a little scary to me – if she's not on something, she might seriously be in trouble. I mean, she slept with a member of the paparazzi, people. And now you're telling us she was sober during it? (And you're also telling me he didn't get any pictures?)  
 I might have to find myself a new youthful diva to hate on – I think Ben thinks Lindsay Lohan is hot, maybe I could fabricate an intricate fantasy in which I am locked in a life-long competition with her. Or Paris Hilton? Or is she too skinny for me?
In any case, until Britney Spears gets her act together to the point in which her life is only as screwed up and sad as mine, I'm going to lay off a bit. If I dig down deep enough, even I can start to see some difference between being dumb and wanton and socially irresponsible and being in need of some mental counsel and professional help.
But – mark my words – if we are to find out that this is a stunt, and that Britney is merely SO dumb and SO wanton that she physically needed a stretcher, I will come back with full force and full vengeance. Or, if we find out she's merely on a smorgasbord of illicit and prescription drugs, all washed down with alcoholic beverages and fried chicken, I will not be kind. Let's keep our fingers crossed.
I'll admit: as much as I love Jay-Z, I didn't like his last album, Kingdom Come. I listened to it maybe twice — and yet I couldn't figure out where he had gone wrong, what with all of his raw talent and posse of talented producers.
It seemed to me that the album lacked heart. Jay-Z has had a lot to rap about up to now – his tough childhood, his involvement in drug dealing, and a long hard struggle to the top of the rap scene. But recently, everything seemed to be going right: he is one of the richest and most famous rappers, he is a hugely successful businessman outside of his rap career, and he is in a weirdly stable long term relationship with fellow blockbuster musical artist and businesswoman Beyonce. And you can only listen to so many rap songs about how well everything is going.
When rap as a genre expects semi-autobiographical songs that focus on struggle and conflict (preferably on the streets), what are successful rappers who have overcome adversity left to rap about? Is it possible for an older, comfortably settled, rapper who now makes his biggest deals in high-rise boardrooms to make a "real," heart-felt album?  
Jay-Z seems to have struggled with this problem on Kingdom Come and failed – he ended up with a bad album and a slightly embarrassing Budweiser Select commercial.
But, a year later, Jay-Z has solved the problem with his new album, American Gangster. It seemed like nothing less than an epiphany: he saw the movie and was inspired to write a concept rap album about the rise and fall of many people who have played the game on the streets – complete with early-70s musical influences and, on some songs, very clear parallels drawn to specific scenes in the movie.
This idea is nothing less than a necessary step for rap to take – as the rap artist lifestyle changes, they will have to tap into different places for inspiration. Just as Jay-Z's 1996 debut album Reasonable Doubt sent waves through the rap world, American Gangster is just as big a step forward. This album, as a whole, is about big ideas and is cohesive (theme-wise and musically) like no other rap album I've heard before.
More than that, though, finding inspiration through the figure of the movie's central figure Frank Lucas, Jay-Z seems to have rediscovered something that he can actively be interested in – you can almost hear in his voice how much more he cares about these songs than on his last album. As he says on his song "No Hook," "I don't need no hook for this shit / this is not for commercial usage." It's as if he is apologizing for the time he spent artistically lost and uninspired.
The album is full of energy, horns, and 70s samples. And in everything, from the rhymes to the production to the hooks (when there are hooks), you can hear that not only is the old Jay-Z back, but he's learned some new tricks.
Here's an image for you: me, sitting in a little messy cubicle, answering hundreds of responses from unsolicited emails about history textbooks, listening to Britney Spears' new album, Blackout way, way too loud on my headphones and bobbing my head. Every once and a while, like when Britney rhymes position, mission, and permission, or when Britney obviously misses several nasally notes in a row, I will stop bobbing my head and frown.
So yes, I decided not to Be Proactive to Help and go ahead and buy the album. And the bonus track.
I have a lot of mixed feelings. Before purchasing the album last night, I read a bunch of positive reviews of it online. "It's totally not a horrible, overweight disaster!" record reviews wrote. "I really thought that this album would be a bad mother struggling with a substance abuse problem and a fresh divorce, but I was pleasantly surprised to find that it was a collection of 13 pop songs!"
It seems that people like the album because it's not another train wreck of a misstep like Brit's performance at the  MTV VMAs or her two children – their expectations were low, so it was a pleasant surprise. They can't separate Brit's life from her music. And the music isn't bad. The beats are good and catchy and the production is great. I would say I even like three or four of the songs more than anyone should.
Of course, is it Brit's music? I'm going to say no, and it's not just because I'm a poor jealous talentless brunette. She can buy the best producers in the business, and this album features Bloodshy & Avant, the Clutch and the Neptunes – people who can make catchy songs out of anything. Seriously, I wouldn't be surprised if Britney didn't even sing in the studio for this album — she was just recorded having a whiny, breathy conversation out in the parking lot and they sampled bits and pieces of it. Like she said, "Gimme more fried chicken, baby!" and they cut out "fried chicken" and made two hit songs out of it.
Because, after all of these years, it's still pretty apparent that Brit isn't the best singer out there. She's often shrill, nasally, and off pitch. The best songs are the ones where she's mostly just talking in the background or making those weird sexy noises she makes. When it comes to guilty-pleasure pop divas, I'll stick with Pink and Shakira – who are not only better singers, but who also manage to write their own songs from time to time (Britney is credited on two songs on Blackout, although one of them is the less-than-brilliant "oh oh Baby," which contains the lyrics "oh oh baby baby baby baby baby" and is about the physical act of sex).
The lyrics on the album that are not the words "hot" or "baby" seem like a study in irony or perhaps just a lot of hilarious misunderstandings – songs like "Piece of Me" are about what a mess she's been over the last year or so, and how she's really sassy about it, but it becomes quickly apparent that she didn't write the lyrics. I mean, you can't really complain about people taking pictures of you while you get out of your car when you often show your genitals during the process. Can you?
In the end, I'm not sure if I learned any secrets about my enemy Brit by listening to this. She's just not there very much – you can't feel her presence like in some of her earlier albums. It's unarguably a good album, though, perhaps for that reason. Either way, she's probably widened the lead, just a little bit, in our race to have the more successful life.
Where does that leave me, and where does that leave Britney? I'm not sure. I think I learn more about her by keeping up on the gossip, the latest of which claims that Britney was breastfeeding JJ while she was drunk on vodka. And while I find it horrifying that she's treating her kids to Baby's First White Russians, I'm also going to keep listening to her new album while I reply to the rest of these textbook emails. I will not, however, bob my head during the sequence where she deems to rhyme man, hand, and understand.
It's been another big week for Britney Spears – not only was she involved in another paparazzi hit and run incident, but the Fed-Ex vs. Brit-Brit custody battle has become so confusing that I'm not even sure the judge knows where the kids are any more. But this is only the present. And, as always, the present is mere seconds – seconds! – from being the past.
I should be worried about the future. More specifically, I need to be worried about next Tuesday, October 30th, when Britney Spears' new album, Blackout, hits the stands. It's her first  original music release since 2003 and I have no idea what to expect. On one hand, I should probably buy the album and listen to it on repeat until I have it committed to memory – both so that I may know my enemy better and because I need to learn from her for when I finally get around to recording my five world-wide hit pop albums.
On the other hand, should I buy the album at all? Should I support Brit's downward spiral of a drug-dazed life by purchasing her CD? Wouldn't that be sending the wrong message to Jive Records and the music industry at large?
Well, some of Brit's closest acquaintances and former hangers-on say no. In fact, they've started a MySpace page, Be Proactive To Help, which urges anyone who truly cares about Brit to boycott her music and merchandise (and here I was, about to buy her new fragrance, In Control, so that I could see what Britney thinks being in control smells like). More than an utterly confusing mashing of an absolute train wreck of un-diagramable words, Be Proactive To Help really wants to see Britney get better and return to her former rock-hard-abs glory. The thought behind the boycott is that if Jive was financially affected by Brit's mental state that they will force her to seek help and get healthy.
Upon first viewing the page, I was a bit moved. Here are people – fans – being proactive to help. Together. Would so many people be proactive to help me if I were in trouble? Would they even make a weird MySpace page for me? I decided then and there: as much as I wanted to hear it, I wouldn't buy Blackout next week. I would save the pop star and save the world.
About an hour later, I was still on the site. The sun had set without my noticing, my blog was sitting cold and unupdated at updating time, my cat was hungry and confused. I couldn't stop reading – the comments, the profiles of the commenters, the profiles of the significant others of the commenters. Oh, the body glitter and the sadness! Oh, the creepy middle-aged men who say they haven't bought an album since …Baby One More Time! Oh, the pink backgrounds with slightly darker pink fonts! Oh, the John Mayer soundtracks!
And, around that time, when I was getting pink MySpace wallpaper eyestrain, that I realized that I had been tricked. Be Proactive to Help might be being proactive to help Britney, but they were being proactive to hinder me – my goals and my dreams. Instead of doing any of the many tasks I need to complete in order to surpass Britney's success, I was sucked into wasting hours of my time. On purpose.
Yes, I will buy Blackout next week. And I will study it and I will learn. I will not be tricked by Brit's posse again. I will stay focused and see nothing but my goal of being better at life than Britney Spears. In the end, hopefully, I will reek of being in control. To help.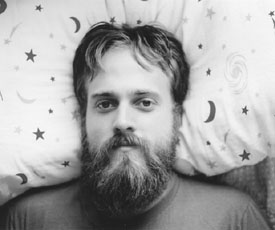 Sam Beam, the man behind the stage name Iron and Wine, starts his new album, The Shepherd's Dog, with a practical joke. The first few bars of the first track are of a lone acoustic guitar – quiet, scratchy, low-fi, simple. It sounds like the beginning of any song off of his first two albums, both of which mostly consisted of the original four-track demos Beam recorded in his bedroom and sent to Sub Pop at the urging of Jonathan Poneman.
Then, after ten or fifteen second of these familiar, quiet, soothing sounds, the album jumps to life: enter stereo sound, enter layered guitars, enter drums, enter some backing vocals and piano. Enter a new kind of Iron and Wine.
It's the best kind of new album from an artist that you love. Most of the core themes and sounds that you find irresistible are there, but it's also not a carbon copy of the band's earlier efforts. The essence of Iron and Wine isn't lost in the layers: the largely narrative, touching, sometimes sentimental lyrics. The whispered melancholy voice of Beam and unshakable Southern Gothic feel. The folky sound and gritty realist imagery that can only come from a big guy with a full beard and a guitar.
On the other hand, you can also see Beam exploring and trying new things. Growing and learning and having some fun. Although the first three or four songs sound like vintage Iron and Wine with the added help of studio equipment and a band, the album becomes increasingly experimental with each track. And Beam isn't just trying out new mixes and new instruments – he's trying on different genres and sounds: rockabilly, Afro-pop, even reggae (I think).
 Is that a xylophone? you'll ask yourself. Are those bongos? Is this beat Caribbean? Am I actually dancing to an Iron and Wine song, when usually I curl up into a ball and think about days past and loves lost, a single tear rolling down my face and onto a gothically Southern quilt, threadbare and softened by so many restless nights?
Well, you will dance. Try to listen to "The Devil Never Sleeps" without at least tapping your feet.
Don't get me wrong. As much as I enjoy the new sounds and the increased energy of this album, there's a piece of me – the crying on a quilt softened with age piece of me – that misses the utterly sad and quiet almost spooky moods of Iron and Wine's work up to now. Unlike his first two efforts, this is not an album that you can put on to go to sleep to, or write to, or drive across the Midwest in the dead of winter to. But it's still wonderful – a natural progression for Beam – and I'm sure I'll find other things to do while I listen to it. Perhaps drive through the Midwest in the first days of spring.
 Here's a clip of "The Devil Never Sleeps" (the danceable one) on Letterman:
I told myself that I wasn't going to review many albums on my blog since there are many, many people out there who could do a better job of it. But, every once and a while, a Pitchfork Media review will get me upset enough that I have to respond. I mean, yes, Pitchfork is a good outlet for indie music news – but I cannot freaking stand a few of their snobbier reviewers who find every way to 1) have a shockingly differeing opinion just to be shocking and different 2) misuse wonderful words and 3) make up silly words when you could use real, actual words instead.
No, Pitchfork reviewer Joshua Klein, I will not accept that PJ Harvey's new album is a 6.8 (or D+), just as I will not accept that "miserablism" is a good made-up word. I know from reading your other reviews that you have trouble rating anything "especially good" or "especially bad" – probably due to a lack of balls – just as I have a feeling that outside of your Pitchfork byline only your mother calls you Joshua. But this last review made me wonder which of your influential friends or relatives landed you the job you have now.
Moving on from Joshua's balls, though, the review barely talks about the new album and mostly focuses on PJ Harvey history, factoids and rumors.  When it does get around to the music, he concludes that because an album is "bleak" and not "fun" that it is bad. That because her piano work is very simple that it is therefore not creative or interesting.
White Chalk's success lies in it's ability to create an atmosphere — a ghostly mood you can't shake for hours after it's over. Utterly stripped down, quiet, and simple, each song features a softer, eerier Harvey who sings in a higher than usual register and plays basic, halting chords on her piano and guitar. During the opening verse of "Broken Harp" she sings, "Please don't reproach me for how empty my life has become," and this seems to serve as a major theme in the album – these are the songs of someone cloistered, monkish, and meditative (yes, these are simple words, but they're all accurate and real ones).
Harvey creates a backdrop of the gothic windswept English landscape – think Wuthering Heights – as the isolating force and central image on this album. And while many call this almost haunting effort a departure from her louder, higher-energy albums, it seems to be more of a reduction of her previous music to the most vital parts – the songs have a folky, fairytale, four-track sparseness to them. In fact, this "departure" might just be a disguise for Harvey's most personal piece of work to date in that it captures Harvey's slightly misanthropic and quiet life in rural England. Yes, her electric guitar has been set aside and she doesn't do much of her patent shouting (which I find equally satisfying), but this certainly has the soul of a PJ Harvey album.
Bleak is a word that Klein uses negatively in his review. And it might be the central word that I would use to describe the 11-tracks – but I find it to be bleak in the most lovely way.  And while Klein claims that the CD's unforgivable flaw is that there is no catharsis, well, I'd have to say he might have been looking too close to see the big picture. The catharsis is the physical performance of the songs.
If you don't believe me, if you think that maybe I'm just a rabid fan of PJ Harvey who would give a positive review to anything with her name on it, I've linked to a video of her performing her new album's title track. Judge for yourself.
Everyone has a jarring musical awakening in high school, and Tori Amos was mine. She was the artist who, during those confusing years when no one seemed to understand, played music that echoed exactly how I felt. I remember getting ready to go see her play for the first time when I was 14 or 15, putting on my mom's mascara and slipping a black lace shirt dress over jeans and a t-shirt. I think I was even shaking a little on the T ride over – excited like only a 14-year-old going to see their musical idol can be.
Yes, she's known for her rabid fans – tortured women wearing too much eyeliner and gay men also wearing too much eyeliner. And when reviews write about her album, the word "cult" usually gets slipped in the opening paragraph somewhere. But, possibly as a rapid eyeliner-ed fan, I think it's well-earned.
Perhaps you had to see her last night (or that first night I saw her about ten years ago) to get it – standing up on stage over a piano bench, playing a grand piano with her left hand and a harpsichord with her right hand (this is hard, people), legs spread, stopping in the middle of a song to improvise for a minute or two about the guy in the third row who's bothering her.
A child piano prodigy, at five she was the youngest student to ever be accepted to the Peabody Conservatory of Music. At age 11, she was the youngest student to be kicked out. After that she played in gay piano bars in Washington DC for years before she hit it big in the early 90s with "Silent All These Years."
And I loved her. I listened to her obsessively, tracked down every rare single and every limited edition poster, drove six, seven hours to catch a show. I drove room mate crazy and embarrassed boyfriends.
But what happens to these teenage obsessions ten years later? Sure, I still buy all of her albums, but I no longer buy every magazine she appears in or read about her Australian set lists on the internet. The posters I have of her are rolled up.
Last night, though – last night I put my Tori tickets in my wallet and dug through my wardrobe until I found a very specific black lace shirtdress that could have easily been in My So-Called Life. Despite smelling like closet, it fit – kind of. It fit in the physical-size way, but not so much in the personality way. I walked into the living room where my sister Becky and Ben were. Becky said something about how 1994 the room got, and Ben looked at me with a huge smile on his face – he was seeing High School Sarah for the first time. And he found her hilarious.
I changed. I took off the shirtdress (which also made appearances at a few other concerts – Ani Difranco, Bob Dylan, Sleater-Kinney) and retired it. I'm still young and everything, but I'm not 14 anymore. I rummaged some more and found a sheer black fitted sweater that was a little more my current style. Things change, I told myself, but I can still wear see-through.
At the concert, I expected to see a bunch of high schoolers and college kids, but they weren't there. Most people were in their 20s and 30s, and also seemed to have pulled out their slightly-conservative but still-fun outfits – Chunky boots, flowing dresses, kitten heels (and yes, tubs of eyeliner). Everyone talked like friends. It was nothing less than cozy.
Tori Amos ran on stage and was just as she has always been -full of energy, sporting a bright red wig and sequined pants suit, humping the piano when she pleased, and playing and singing like it was the easiest thing in the world.
She was everything that Britney and Paris and Lindsay are not: absolutely confident, ambitious, fun, quirky, and hellbent on making great art. I still knew to clap when she pulled out a rare b-side from 1999 or when she added the rare "brambles" verse to another non-album song. And the music was still just plain beautiful – something that deeply affected and inspired me. That won't change.
 Here's some recent live footage if you're interested:
The race between me and Britney Spears has heated up even more this week. Not only did the court decide that Britney was unfit to care for her children, it also decided that Kevin Federline – a grown man who doesn't seem to know how to tie his shoes – would be a better pick. Add to this her divorce earlier this year and her recent estrangement with her mother, and Britney is now alone in the world, if you don't count asshole singer Howie Day and a mountain of coke. And I usually don't.
Unlike some people, I'm not upset that Britney has lost custody of her children, and it's not only because my goal in life is to be more loved, successful, and toned than her. It's because she didn't get her children taken away, she lost them after not being able to follow two simple rules: pass drug tests and see a counselor. If she really put some effort in, I think she could have eked out those two things and kept her kids. At least, I'm convinced I could have in a similar situation (if they gave me a specific list of drugs they were testing for beforehand and didn't make me see a counselor).
But – I'm also not of the school of people (and Star magazine) who believes that Britney has hit rock bottom. Oh no. She's got a ways to go, if I remember the details from watching that Vanilla Ice biopic. She hasn't lost her millions yet, for instance. And she hasn't gotten into a tour bus accident (perhaps only because she's not touring) or a jet ski accident or a pyrotechnics accident. She hasn't gotten bad plastic surgery or been found passed out (completely) naked. And she hasn't even OD'ed yet. She might be in a freefall right now, but she hasn't even glimpsed the bottom yet.
I had a less eventful week on my road to success – I'm hoping that this slow and steady thing pans out for me. I had a good week at the gym, especially working on my guns and upper body. I also managed to eat well – at one point even refusing a no-strings-attached jelly donut that I could have eaten in my cubicle without anyone being the wiser. On a wholly different level, I also didn't shave my head this week, hit anything with a car, botch a photo shoot, or lose custody of my two theoretical children, who, as a theoretical mother, I should have guarded and cared for up until my last responsible, motherly breath. Not like I actually had a photo shoot scheduled in which to botch. Maybe next week.
The most heartening news for me this week wasn't even about Britney's custody battle, but about a sex tape that might surface of Britney and some guy she picked up at a bar in Hawaii a few months ago. Now, with all of the sex tapes out there these days, it's hardly shocking or interesting news and doesn't speak much to Brit's descent. But – one detail of the article really made me smile. The dude with the sex tape has had it for months without coming forward. Why did he keep it a secret for so long? Because he said that the sex tape isn't very interesting and that he was embarrassed that it was so boring. So Brit's a starfish in bed. That's something that won't improve even if she does get another hit single. Point Aswell!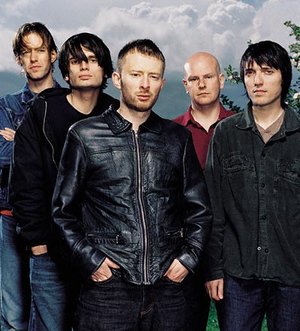 I stopped stealing music off the internet about a year ago. Unfortunately, it didn't have much to do with morals – I just got tired of keeping up with the stealing technology and the trouble of stealing complete, correctly labeled albums, not to mention the trouble of accidentally stealing the clean versions of rap songs instead of the explicit versions. I guess at some point paying the $9.99 or so at iTunes became worth it to me to download the whole album quickly, along with a bonus track, some album art, and a clean conscience. It might also have something to do with my now having a steady paycheck.
On the other hand, I stopped buying physical, actual CDs quite a few years ago, with the exception of a few special occasions or box sets. Paying up to $18.00 for a CD seemed increasingly ridiculous, especially considering that all I did was immediately rip the songs onto my computer and iPod and then let an irresponsible friend permanently borrow the real, actual album.
So – when Radiohead announced last night that their new album In Rainbows  (which wasn't expected to come out for months and months) would be released next week, for whatever you wanted to pay for It,  I wasn't sure what to think. Apparently you go to their website and when you checkout with the digital album and try to pay, it says, "It's really up to you." You also have the option of buying a collector's edition of the actual, physical CD and vinyl record for around $80. And – they're doing the whole thing without any sort of record label.
I suppose they have to luxury to experiment with this – they're one of the most popular bands in the world and already have a lot of money and make plenty more through constantly sold-out world tours and merchandise sales. They also have a pretty large obsessive cult following who will be sure to order the special collector's edition package or at least pay full price for the digital version.
Where does this leave me? I guess I have a week or so to decide. I feel like I'm being pulled in a few different directions:
Would I have bought the album for $9.99 on iTunes? Yes, probably. I've bought all of their other albums, although I haven't been really into them for a few years – ever since I moved on from being depressed in school to being depressed in the workplace.
But do they really need the money? No way.
But shouldn't I reward them for taking this bold step in the consistently screwed-up music industry? Maybe – maybe I could give them five bucks for trying to make things better for everyone.
But couldn't I take those five bucks and give it to some charity – some really good charity that fights cancer or AIDS – instead of giving it to Radiohead, who very well may put my five dollars into their Doing Lines of Cocaine off of Groupies' Asses Fund?
Or perhaps spend the money on a CD by some struggling, lesser-known local band who could really use a boost? Maybe one who lists Radiohead as an influence?
Or even better, couldn't I keep my five dollars and put it in the Sarah's Awesome Future Dreams Fund? And perhaps tell myself that if I lived more comfortably I might have more time to work on the cure for cancer on my own?
You know, every time I have more than two beers at Doyle's I play "Fake Plastic Trees" on the jukebox and frown thoughtfully into my pint. Does Radiohead see any of that money? Because if so, I've probably paid for at least one of their bottles of Hennessy by now.