You are currently browsing the tag archive for the 'health' tag.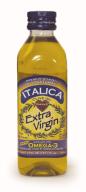 There are a few mistakes in life that I have trouble learning from. One of those mistakes is buying things that are on clearance in the grocery store. Sure, you might be able to get away with clearance clothing or clearance houseware without a problem, but food that is on clearance… there's just something off about that.
Of course, when I was at the grocery store this weekend, looking to buy extra virgin olive oil, I put my fears aside and purchased Italica Extra Virgin Olive Oil with added Omega-3. So what if it was suspiciously half-off — olive oil is probably the most expensive grocery item that we buy and this olive oil has been enriched with Omega-3 fatty acids! What could possibly go wrong?
Fast-forward to last night as Ben and I are cooking dinner. He's in charge of the turkey burgers and I'm putting together a couple of sides — a salad and some whole wheat pasta tossed with cheese and olive oil.
As soon as the oil hits the pan, the kitchen started smelling like a fish market. I wonder momentarily if the last time I used the pan seafood was involved before the real culprit was discovered. Apparently, when they say "enriched with Omega-3," they really mean "we just added some fish juices. It's kind of gross."
I continued with the pasta and we sat down to dinner. Perhaps, I thought, there was just a hint of fishiness that wouldn't show through the pasta and cheese.  I asked Ben if he smelled fish, and he claimed that everything was normal. Then he bit into the pasta and put down his fork.
"Yep," he said. "Ugh." 
Since I don't believe that any food could possibly be so bad as to be inedible, I went ahead and tried to take a few more bites. My mouth felt like the dumpster behind Red Lobster, if that dumpster had been sprinkled with cheese.
Let this be a cautionary tale: there is good reason that NEW! product is half-off. You just might not know why until it's far too late and your apartment smells like low tide.
I'm trying out a new little feature today – a little bulleted entry that's kind of like a to-"done" list of things that affected my day. Let me know how it goes. Is it too boring, indulgent, or both? Let's hope for both!
I finally walked up to Guy Talking On His Cell Phone At The Gym. I walked up to him and I didn't say, "Please don't talk on your cell phone," or "Your constant cell phone usage ruins my cardio workouts at least three days a week," or, "The gym is for working your body, not your mouth." But, no, I walked up to him, looked him in the eyes, and simply said, "CELL PHONE" and walked away. He then made a couple of lame comments about me to his friend but I take comfort in the fact that he didn't have the nuts to walk up to me and say anything to my face. He's in the running for a Douchebag of the Year Award, no question (that's going to be another new blog feature, maybe).
I got in separate fights with both of my parents over politics today. I don't like this. We're all stubborn, and, although my parents raised me with Southern values, I was raised, geographically, in Boston. You know what that means. I know they're wiser than me and in a way know better, but I also know that I truly feel and know what I feel and know. Mostly, I don't think it's a good idea to talk about these issues with my parents and that I should have restrained myself. Mostly, it's taking every inch of my will (will comes in inches, right?) not to have BROOD officially endorse Barack Obama in the coming days. We'll see how this pans out – I also don't want to bring politics to my blog just like I don't want to talk with my parents about politics. Kind of.
Both of the above points obviously stem from how badly my job has been going since the big merge on January first. I no longer have time to rest or think or even take lunch (or write regular blog updates! Or write in general!) during the day, and the whole time I'm bitter about the fact that I'm working with twice the book list, twice the bosses, and the same exact pay. I need something. I shouldn't be crying every day when I get home from work and I shouldn't be lashing out at my parents or even at Guy Talking On His Cell Phone At The Gym, even though I'm somewhat sure he should be shot to keep his chatty genes from being passed on. I just feel very enraged these days. Anyone have New York City job leads? I'll try anything that involves keeping most my clothes on. I'm serious. I know a few of you will write (maybe both my dad and Ben's dad) and tell me it's not so bad, but I also know that if I fill in one more fiscal spreadsheet, I will lose a part of my soul. I need something different. I need to lose a different part of my soul for a change.
Being enraged also means being emotional in general. Today I came home from work and found that Ben had cleaned the kitchen. I don't mean that he simply washed the dishes, I mean that he cleaned even the inside of the refrigerator and, therefore, emptied about a dozen terrifying old leftover Tupperware horrors that have been sitting there for months. These horrible leftovers were so terrifying that I'm not sure I could have done it without crying and jumping up and down a little in that grossed out way. But as you can guess, when I walked into the kitchen after work today I cried. Because I am an emotional wreck with a great boyfriend.
January 2nd is an extraordinary day at the gym. The number one resolution each year is to be healthier, and, after recovering from their hangovers on January 1st, people stampede to the gym in droves. It feels a lot like the first day of camp or something – new and nervous faces and a lot of bunching shorts. Of course, unlike camp, most people won't make it a month.
I like seeing the new people, but I don't like the crowded locker room or waiting for machines. More specifically, I don't like that some woman was using my unofficial locker, which she should have obviously known was mine through either ESP or osmosis. I don't like watching someone misuse weights and ignore the advice of the personal trainer who comes over to help.
It's on these rare days that the gym regulars that I usually can't stand (The Grunter, Guy Who Only Works Out His Biceps And Nothing Else, The Samurai, Guy Talking On His Cell Phone At The Gym) are my unlikely allies. When, for example, a newbie is somehow taking up an entire bench in the locker room with her shit, I can lock eyes with Girl Who Thinks She Is A Boxer Even Though She's Really Just An Owner Of Boxing Gloves and, for one moment, not hate her with my entire heart.
Still, there's something thrilling about seeing the new guys. It's kind of like that scene in Shawshank Redemption when all the new prisoners arrive and the old prisoners bet on who's going to cry first – everyone remembers their first day. On one hand, you want everyone to survive. On the other hand, you want to think that you were special simply by surviving yourself.
I like to guess who's going to stay. Most people fade out and completely disappear by the middle of February. A handful keep showing up – even during the coldest days of the last half of the winter, even after it heats up, even if something goes wrong in their lives. It's like guessing who's going to get shot in a war movie.
For example, last year on January second, I noticed a big guy with a scruffy beard who was new – the kind of guy you see in Queens that is obviously a recent immigrant from any number of vague Eastern European countries that didn't exist when I took geography in sixth grade. He was half-jogging, half-running on the treadmill and looking shy although pretty damn determined. He was there every single day until I switched gyms last spring, but I still see him at the local grocery store sometimes, looking utterly transformed. We still nod at each other – like we've been though something together (camp or prison or war, according to my lame mixed metaphors).
But for every determined scraggly bearded guy, there were ten people I saw today who won't make it to next week. Some of them are easy to pick out: the girls with the brand new matching workout outfits that look like something Aerobics Barbie would slip into for her new animated video. The dudes who come to lift weights in jeans and work boots. The girl who tries to do the stair climber with chandelier earrings.
It all works out in the end, though. The people who stay are the people who we, the motley crew of regulars with our own idiosyncrasies, would like to stay, for the simple reason that they want to stay. If they keep coming, they'll learn. The awkward mom who didn't quite understand how to do the rowing machine will perfect it in a month. The 70-year-old grandfather who walks on the treadmill for 30 minutes each day will learn to not wear dress socks. The hipster chick with the leg warmers will soon enough trade in her five-pound weights for ten-pound weights, and then fifteen. Soon enough, we'll all be nodding at each other in the grocery store. It's a good feeling.
I am overwhelmingly pleased and relieved to announce that Rips is home and absolutely well. Ben reports that she is 100% recovered, barring the clumps of hair she lost while sick. She is demanding to have her belly rubbed whenever he comes home, she is demanding to be fed exactly "on the sevens," and she is demanding whichever side of the couch that Ben happens to be sitting on at the moment. In other words, things are back to normal.
All of her tests came back fine – the vet said that dehydration was the main problem (caused by her vomiting) that led to a downward spiral that she wouldn't have recovered from without a trip to the hospital (the bad vet that we took her away from, if you recall, recommended that we didn't hydrate her until we found the root of the problem). Whatever caused the vomiting will remain forever a mystery, although the two best guesses are that she got a stomach virus similar to the one that shook me and Ben to our foundations that same week or that she ate something bad that her system had to work through.
I am so, so happy that I can stop worrying about her (and start worrying about the exorbitant vet bills, which I will pay with a smile) and start to enjoy Christmas and my time off from work.  The simple fact that she has eaten a single bite without throwing up – or that she's once again energetic and vocal – makes me want to jump up and down. Ben called me late last night and said, "I know that it feels weird to call you and announce this, but I think you should know that Ripley just used the litter box!" Hearing that was kind of like seeing man walk on the moon for the first time.
Thanks for all of your comments and emails and calls – I felt less stupid after hearing about Buddy, Sammy, Firestorm, Jake, Jesse, and other kitties that are just as much a part of your families and hearts as anyone. Sure, this incident cost me my new laptop, but she's a pretty great (and warm) lap-top as any. According to my calculations, she has a solid seven lives left of her nine.
Oh – and I'm feeling much better too. I'm still a bit weak and delicate after my traumatic flight and gross sickness, but all's well. Although I will say this: never, ever go shopping for clothes in the days after recovering from the stomach flu. I was in the dressing room, trying on size 2 pants and midriff shirts and thinking, "Why am I SO hot today? Why does everything I put on make me look SO MUCH like a supermodel?" The answer: because all I've been doing is vomiting and eating saltines for three days. Just like supermodels.
Ripley has gone from bad to worse – we took her in to the vet yesterday morning after three days of her throwing up. After initial tests, the local vet had no idea what's wrong with her. Both Ben and I didn't like the vet – do you know that generally smarmy feeling you get around some people, even if you can't place why? – so we rescued Ripley and found a better place, even with the vet insisting that she stay with him and that we were making a mistake by taking her somewhere else.
Now, this was all happening while I had to catch a plane in two hours to my parents' house in North Carolina. Ben, who is the best man on earth, got in a cab with Ripley and rushed her to a real, actual animal hospital in Manhattan where the vet wasn't just going to recommend procedures that would make him money and not help Ripley. The new vet immediately rehydrated her and gave her an ultra sound – since she might have swallowed a foreign object. Ben spent hours of his time talking with the vet and, heroically, gave them his credit card information.
Knowing that she was now in good hands, I booked it to the airport. By the time I got there, I was feeling… spacey, like I couldn't concentrate on anything. Ben called and I could hardly put two words together to tell him how I felt. I thought it was just stress from worrying about Rips, but I found out soon enough that it was actually the stomach flu, which Ben had two days before and which has been sweeping New York this week. I'm 90% sure than having the stomach flu in an airplane is the worst, most embarrassing thing that could happen to a person – and all while crying about Ripley. I'm just endlessly thankful that I had an aisle seat and that the person next to me slept through everything. And that I'll never see any of those people again.
After a night of vomiting and shivering in bed, my fever broke and I feel much better – "much better" meaning that I feel like I got hit by a train yesterday – physically and emotionally. I'm glad to have my whole family around me and am looking forward to a few days of relaxing and spending time with them. Ben is calling each time he talks to the vet, and, again, I can't believe he's taken that burden onto his shoulders while I'm gone.
I know that its silly to be so worried about my cat – there are people with much worse problems in the world – but I am. I can't tell you how frustrating it is to simply not know what the source of her problem is. It seems so much more difficult than when a human gets sick – Ripley is unable to communicate to us what she did or how she feels. I hate to think of her alone in the city, not knowing why she was taken away from her home or why she can't seem to eat.
You might think that I date Ben because he's loving and supportive. Or because he's an ambitious and successful sports writer. Or because he's smart and hilarious and inquisitive and fun.
But you'd all be wrong. I keep Ben around because he used to be a personal trainer and for years now I've been taking advantage of his free advice and training sessions. The way I look at it, I'm practically making $60 every time we go to the gym together. Sure, when we go out I have to deal with girls flinging themselves at his chiseled six-pack like how birds fly into windows and sure, I have to deal with making him feel better every time someone makes fun of the place where his neck is supposed to be – but it's all worth it for the free health and fitness advice.
Like yesterday, for example, when we completed the Dread Circuit. The Dread Circuit is the hardest workout routine we do – and we do it probably two to three times a week. It consists of 20 minutes of throw-up-in-your-mouth ab work and 40 minutes of cardio weightlifting. Cardio weightlifting, for those not familiar, is exactly like regular weightlifting except that your body is on fire and you can't breathe the whole time.
Still, even though this sounds bad, it's probably the most challenging and rewarding physical undertaking I complete all week. And it makes the next day's workout (cardio and light lifting) feel as easy and free as eating a tub of popcorn while watching Dr. Phil in my underwear.
And that's just one of the many really general things I've learned. Here are some more:
A gym buddy makes everything better. I really don't know how people go to the gym every day alone, without someone to hold them accountable. As totally awesome as I feel on my way home from the gym, I usually feel a lot more like huddling in the dark in a fetal position while moaning when I get home from work. Ben confirmed it: the people who are consistent and the people who succeed almost always have a buddy to help them out along the way – to honk with the car running in the driveway, to spot you when you're weight-lifting, and to keep you in check.
Routine is good, but so is variety. Before I knew Ben, I did the same exact things at the gym every time I went. Even though it's good to consistently show up at the gym it's not good to consistently do 30 minutes on the elliptical and then do the same ten ab exercises. You have to constantly shock and surprise your body – and make sure you're working everything and not wearing out the same six muscles day after day. For cardio, mix the elliptical with the stationary bike and the treadmill and the stair climber, for example. Ben, who is a superstar, mixes weights, cardio, boxing, jujitsu, yoga, circuits, and Pilates.
If you're a girl, don't be afraid of bulking up. Ben said something he always heard from women who were starting workout plans was that they didn't want to lift weights because they didn't want to look like a man. To which Ben said, seriously, don't worry about it. Unless you're really lucky, the only things weightlifting will do to you is tone your body and distribute your weight better, help you burn fat, and strengthen your bones. Oh, and it makes you feel awesome. It won't make you look like the Hulk – women have a natural layer of body fat, not to mention we just don't have the hormones to jack up like men do.
Really, don't be afraid of the gym in general. In my pre-Ben years, I was certain that everyone at the gym 1) looked like models 2) knew exactly what they were doing 3) would stare at me for a moment, then nudge their model friend, then point, then laugh. But now I know that the gym is filled with helpful, normal-looking people who are generally excited that you, too, are at the gym. If you don't know how to use a piece of equipment, don't hesitate to ask someone – I recommend the funny, supportive guy with neck-esteem issues.
…and don't be afraid of the free weights. Even after I was comfortably going to the gym, I was terrified of the free weights section, where the grunty men with back braces would congregate. I made up excuses not to learn free weights (which I now love and prefer) because I "didn't want to encroach on their space" or "look like an idiot with my 8-pound baby weights." To which Ben responded, "Screw them." It's a good philosophy in general.
Just because you went to the gym doesn't mean you worked out. You have to push yourself even after you've motivated yourself to walk through the door. There's this one woman I see at the gym every day reading a fitness magazine and pedaling on the reclined bike like she's driving her grandfather to church. This woman probably thinks that she works out for an hour everyday when in fact she's only doing some light reading. There's also a guy who is there everyday who stands around where the weights are in his badass workout outfit, not doing much except talking about how much he can bench (if he ever tried it out). He should at least be looking for wherever his sleeves went.
Don't feel bad if you miss a day. Don't sacrifice your social life. Don't miss that totally awesome Lifetime Movie about kidnapping newborns. Don't beat yourself up if you just feel too tired or sick or just need a break. However, try not to miss two days in a row (if you're not sick or injured), because two days usually turns into three. This week, for example, I want to go out after work on Friday when I'd usually be at the gym. So I'm getting up a little early to do some living room yoga.
Know the difference between "the burn" and pain. It's good to work hard, but it's just as important to know when to stop or when to take a day off. A good rule of thumb is that you should have to take a shower when you get home and possibly burn your gym clothes. You should not have to cry while taking the shower. Being uncomfortable isn't always bad, and pushing yourself is the only way that you'll improve. On the other hand, an injury will keep you out of the gym for days or weeks and set you back.
Take advantage of your free personal training session. You usually get one when you join a new gym, and if you don't you can usually ask for one and get it. He or she will show you how to use all the machines correctly and give you a basic routine that's right for your goals. For free! You probably don't even have to sleep with him if you don't want to.
Exercise makes you feel awesome. Duke did a study recently that showed that exercise works just as well as antidepressants. And while I don't recommend you drop your meds and start jogging, I've found going to the gym feels to me very similar to meditating. You clear your mind and focus on your body. After a few weeks, even though I looked almost exactly the same (and even put on a few pounds because I was building muscle), I had so much more plain love for the awesome and wonderful machine that my body was.
Here's my new favorite link ever: Nutrition Data. I dare you to not waste hours looking at this thing.
It has all the nutritional information for any food you can think of – from its caloric ratio (fat to protein to carbs – see the picture to the right) to its nutrient balance to its filling factor. And, for people who'd rather not read five charts, it's got a simple 0-5 star rating system for whether a food is 1) good for healthy weight loss 2) good for healthy weight gain and 3) good for general optimum health.
It's also got a summary paragraph about each food that goes over the food's best and worst qualities. And, of course, each page gives you each food's traditional serving size, calories, and nutritional content.
At the bottom of each food screen it also gives you an option to search for a better food choice based on your health goals (gain healthy weight, lose healthy weight, or just be plain healthy). For example, I searched for dry roasted salted peanuts and then asked this magic nutrition machine to find me a better but similar option for optimum health. It thought for a minute and then told me I should probably try out beans or tofu or soy milk to get the same nutrients with less salt and fat. In short, it's kind of like magic.
And there are a lot of other great features aside for learning about individual foods (as long as you ignore the fad-diet ads in the margins). They have a great list of healthy recipes (with all nutritional information included) and have a well-maintained blog with the latest nutrition news. (Taking a closer look at the site, it seems to be run by the magazine conglomerate Conde Nast, which is weird. They do produce good stuff, though.)
On the down side, there are a few too many stupid weight loss ads (for junk like diet pills) and, horrifyingly, nutritional information on many of the leading fast food chains. Shouldn't they assume that if I'm eating at Taco Bell, something terribly has gone wrong with my day and that I'm not feeling too concerned about glycemic load or inflammation factor?
In general, I wouldn't suggest looking up every single food you eat and wondering how you could have done better – but the food nerd in me loves visiting when I'm, say, sitting in my cubicle and wondering about soy a lot.
There was an article by Benedict Carey in the New York Times a couple of days ago about perfectionism that got me thinking. The article cited a few recent studies that suggest the dangers of extreme perfectionism on your mental health – striving too hard to succeed at everything can lead to stress, depression, and even obsessive-compulsive disorder, substance abuse issues, and eating disorders.
In one awesome-sounding study, participants were asked to "slack off" at work – doing only what was required of them (not staying late, not putting huge amount of time into projects, etc.). To their surprise, their lower amounts of effort didn't lead to losing their job or any other related unhappiness.
On one hand, I embrace this article. Slacking off at work is one of the things in my life that I am trying to, for the lack of a better word, perfect. I don't come in early or leave late. I don't think about work issues outside of the office, I don't go the extra mile. And it was hard to get to the point in slacking that I have reached – naturally, I want to do a good job and be better at what I do than anyone else. I didn't realize that it would be a waste of my energy and time to excel at being a office monkey.
But on the other hand, I don't care about my work. It isn't essential to my happiness. On the contrary, work is something that it is essential for me not to worry about in order to be happy. I do care about other aspects of my life – let's say having a strong relationship with my boyfriend, friends and family, taking care of myself, writing. And this is where the difference lies: while it's vital to not strive to be perfect at everything, I find it just as vital to my self-worth and self-confidence to strive to be perfect at the few passions in my life.
The danger in the article, I think, is that most people think that they are perfectionists. As often as I hear, "I'm such a perfectionist!" I rarely hear, "I'm a half-assed kind of person. I can't stop myself from doing a shoddy, slap-dash job!" Sure, there is a small minority of people who struggle with the mental side effects of too much perfectionism, but most of us, including me, are displaying normal and healthy amounts of striving. Let's hope no one is getting the simple message of "I should slack off more" from the article when the answer is more complicated than that.
In graduate school, the writers who struggled most were, ironically, the ones who settled. Writers who were happy with the products they created generally didn't advance – there was no reason to, since they were content with their current skill level. The best writers were the self-critical ones who hated their own words moments after writing them. The people who improved the most were the ones who kept raising the bar on themselves.
Of course, too much perfectionism can be paralyzing for writing as well. It's one thing to hate the words you've just wrote and quite another to hate the words before you've written them and then write nothing at all – it can be self-defeating. I think the last sentence of the article explained the issue best: "If you can't tolerate your worst, at least every once in a while, how true to yourself can you be?" Tolerence is key.
It's a matter, perhaps, of striving to be perfect while understanding that being perfect is not always a viable goal. I will try to write as well as Nabokov, and I won't give up, but I also understand that it won't happen. As some Roman philosopher whom I can't recall, a bunch of motivational speakers, and Ziggy like to say, "Shoot for the moon – if you miss, you will land among the stars."  
Like so many things, the middle road looks to be the best. Don't try to be the best at things you aren't that passionate about; strive to be the best that you can at the few things in life that matter to you. I know what I'll be doing over the next weeks and months – trying to get to work exactly 15 minutes late, taking extra bathroom breaks right up to the point before a higher authority notices, cutting corners wherever I can locate corners, and giving exactly 50%. I will be the most perfectly mediocre office assistant the world will have ever seen! Hold on, moon, I'm coming!
Somehow I got all the way up to this afternoon without ever doing yoga. I'm not sure what turned me off about it – I suppose I'm a little wary of the Western appropriation of Eastern culture, and maybe a little hesitant to put myself in a group with my former coworker, Lump, whose favorite activity was yoga (next to comfort eating and one-night stands with yoga instructors). You know, she was the kind of person who claimed to "work out" and "be into Buddhism" when what she really meant was that she did yoga twice a week. In general, yoga looked kind of slow and boring and pseudo-spiritual. In short, it looked like a hobby for pussies.
Then I met Ben and he informed me that yoga was not for pussies. He tried it, he told me, after reading about NFL player Eddie George's enthusiasm for yoga  — George credited eight injury-free seasons to the art. It increased flexibility, muscle tone, joint health, balance, and endurance. It battled stress. It was challenging. I could ignore the harmony and oneness stuff, if I so wished.
Then I forgot about yoga for a while. I didn't really feel the need for it. In Montana, it was easier to be active in a variety of ways – instead of just going to the gym, Ben and I played softball, driveway basketball, backyard horseshoes and croquet, and front yard whiffle ball. We rode bikes. Ben played intramural football, played pick-up basketball, lifted weights, practiced jujitsu and fighting, and took a yoga class. I jogged along the Clark Fork River and went on long hikes. In New York, however, we've been much more limited. More or less, when we aren't at the gym, we aren't active. We needed something active that was different from the gym but that didn't require a backyard or a mountain. We needed variety.
Now flash forward again to this afternoon, as we popped in our new yoga DVD, Power Yoga by Bryan Kest (I can only assume that the Y in Bryan stands for "Yoga"). It seemed like the perfect choice for Ben and me – he could introduce me to yoga in the only way I could accept it: through an instructor with a ridiculous cascade of shining brown locks and a penchant for pairing American workout buzzwords with ancient Asian concepts (two examples: "maximum Ashtanga" and "total-body downward dog". I could learn the basics of yoga and ridicule Bryan Kest, all from the comfort of our own living room.
And, I have to say, it was pretty awesome. Even though it doesn't look like you're moving much, my muscles really got a workout – I was sweating by the end. Not only that, but it truly challenged my flexibility and balance.
More importantly than that, though, it was a huge stress reliever, especially doing it immediately upon returning home from a day of receiving emoticon-littered emails from my new manager (every single one marked with the obnoxious high-importance red exclamation mark). In 45 minutes, I went from being on the verge of frustrated tears (new manager translation:
) to making fun of the divine harmony that Bryan's mind, body, spirit, and hair had reached(new manager translation:
).
Nothing that I had feared about yoga panned out – the new-age stereotypes that I had associated with it were either not true or utterly true and really fun and campy to go along with. I can't tell you how relaxing and fun it was to stretch and hang out on the floor for the better part of an hour (I might not have been enlightened in any sort of spiritual way, but I was enlightened to the dust bunny situation under my furniture). I would never replace my regular workouts with it, but it was a great break from my normal gym routines and just as mentally soothing.
God, am I going to start using words like "soothing" now? In a serious manner? I'm going to have to be careful not to have a one-night stand with Bryan Kest.